My Last Two Days as a Disney Cast Member
By Jeff Hoffman
February 2010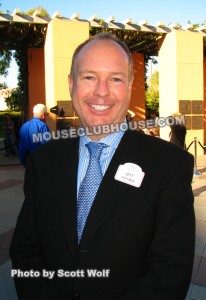 For an amazing 31 years, I was part of the Magic of The Walt Disney Company. Growing up near Disneyland, a job at the Magic Kingdom was always in my plan. I loved Disneyland, the movies and watching the Wonderful World of Disney on Sunday nights with my parents. In December of 1978, while a freshman in college, my dream was realized as I was hired to play a role as a Merchandise Host in Adventureland and Frontierland. I felt so proud walking through the doors of
The Disney University for orientation. Little did I know eventually I would be part of The Disney University at The Walt Disney Studios in Burbank for 16 years of my career. In my 31 years, I spent six years at Disneyland in Theme Park Operations, my time at the University and ultimately my last nine years in Disney Worldwide Outreach. I was given an incredible opportunity to build upon my skills of selling rubber snakes and shrunken heads next to the Jungle Cruise on a journey that would ultimately lead me to having global responsibility for Disney's Philanthropy, Community Relations, Volunteerism and Cause Marketing.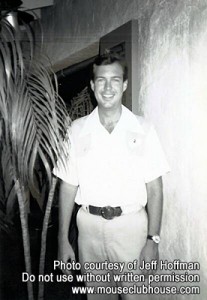 My last two days were spent strolling through Disneyland Park and The Walt Disney Studios. These walks were more than just a stroll through two very special places, but a time machine taking me back through the experiences and the people who have made me who I am today. Starting with a company when one is but 18 years old and leaving two days after the big five-o, really means that I grew up and matured at Disney. I learned, discovered, grew while meeting and knowing a collection of some of the most fascinating, interesting, passionate and compassionate individuals including meeting the love of my life!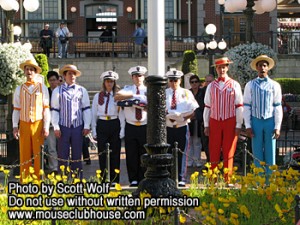 Let's begin the journey. First you should know that my wish for my 50th birthday was to spend the day at Disneyland, but some emergency oral surgery caused a postponement of one day. So on February 24, my partner Bob Lane and I walked through the turnstiles and under the tracks for the Steam Trains for my last time as a Cast Member. It was later in the afternoon and we walked into Town Square just as the daily Retreat Ceremony was about to commence. I found it ironic that the flag was being lowered on my career at Disney. There, a little bit of Americana, the playing of the National Anthem, the Steam Train pulling into the Station behind us and a glance to that little window over the Fire Station thinking "I bet Walt is up there looking out at this special, but often overlooked ceremony." We then walked into Great Moments with Mr. Lincoln to complete the patriotic feeling.
As we strolled down Main Street, I looked up at the windows of the amazing people, many that I would meet and ultimately call friends, who had their names immortalized in whimsical reference to their contributions. It had only been a few months since we attended the window dedication for Marty Sklar and would soon be returning for the Sherman Brothers window dedication.
While walking the Park, Bob and I reminisced about our younger days working together at Disneyland. The friends we made, many that we still see today, and the antics both inside and outside the Park we experienced from our involvement with Cast Activities to those slow party nights where while working we had the run of the Park. On one occasion, we were so excited about the all new Fantasyland that with another Cast Member, who we still see today, we high-jacked a Storybook Land Canal boat, that was closed because of the construction and took it on a joy ride to see the progress of the redesigned land. We had a great view until we had to duck and cover when we spied a group of supervisors walking the site! Another fun activity was walking through Primeval World and having to duck behind rocks and dinosaurs when the train would pass. Simple fun shenanigans based on our love and interest in everything Disney.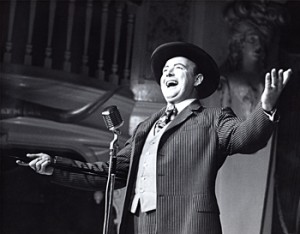 When we got to Frontierland, we entered what use to be called the Davy Crockett Arcade and stood where Mexican Village was located. This is where Bob and I met in 1979. We then walked over to the Golden Horseshoe, remembering where again we had such a unique opportunity to get to know the Cast. How fun it was to spend time on breaks up in Disney Legend Fulton Burley's dressing room while he would tell a group of us old Walt stories from when Fulton would travel with Walt on The Mouse (Disney's original Company plane). Fulton, with his salty Irish brogue, added a lot of "color" to the text book recollections of the early days at the Park. Little did I know that less than five years later I would be serving on the board of what is now known as the Entertainment Industry Foundation, with his wife Terry. Before we leave Frontierland, there is Big Thunder Mountain. What great fun we had testing it before it opened in 1979. We rode it over and over without ever getting out of the trains. We were the first to ride after the sand bags. What a thrill to do that and while designer Tony Baxter looked on. Funny, I still think of it as being a new attraction.
Then around the corner to Adventureland. There next to the Jungle Cruise you can still find rubber snakes and shrunken heads. And how I loved when Sunkist was where the Bengal BBQ now is today. Oh those wonderful orange buttermilk donut bars! Especially at closing time when we would hover at the backdoor for handouts! There is a little known place up the stairs above the Adventureland Bazaar. For many years it was the leads office. I spent many a day and summer night in that office, listening to the sounds of the jungle and the sounds of the Tiki gods coming to life at the preshow across the way. For me, Adventureland and Frontierland will always hold a very special place. Walking out to the Hub, I looked at Blaine Gibson's Partners sculpture with Herbie Ryman's Sleeping Beauty Castle in the background. While there were no fireworks that night, I could push play in my head and visualize them complete with the music that accompanied them for years, in the 70's and 80's. And how fun it was to go backstage during a break to watch Tinker Bell land in her new tower!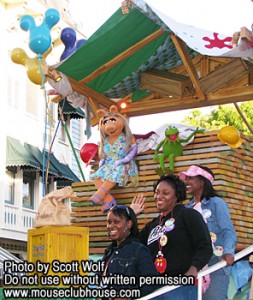 Now, the Give A Day, Get A Disney Day cavalcade was coming into view down Matterhorn Way and into the Hub. This was the first time I had seen this cavalcade and it was full of that day's Honorary Disney VoluntEARS. This was such a special moment for me. Not only had I spent a considerable amount of time on the development of the Give A Day program, but more importantly, Disney VoluntEARS had been my baby for most of the last 20 years. In 1983, the Disneyland Community Action Team was formed. I was a part of the Action Team from the start. What a great way for Disney Cast Members to give back to the local community in so many meaningful ways. Fast forward eight years and I worked with one of my mentors, T.J. Baptie, to start a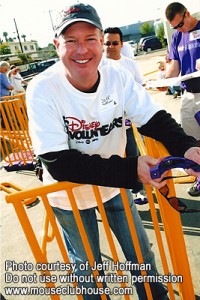 chapter in Burbank. We changed the name of the program to Disney VoluntEARS and I was tasked to take VoluntEARS corporate wide and global. I am so proud of the more than 5 million hours of service contributed to the community, especially to children in need, since the inception of the program. Today the Disney VoluntEARS program is strong at all of our Resorts and growing in such faraway places as China and India. Seeing our Cast Members from around the world, and their communities up close, has given me a unique view of our planet that I am very grateful for experiencing.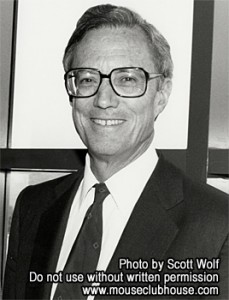 Back to Disneyland, as we walked down Main Street USA, I must admit I shed a tear looking at the Train Station and preparing to leave a place that had been such a part of my life since my first visit at the age of four. But our Disneyland Resort experience was not over as we had dinner at one of our favorite southern California restaurants, Napa Rose at the Grand Californian. The hotel itself brings back memories of the opening of California Adventure and staying at the Grand for a test night with an unfortunate fire alarm that had a mind of its own in the middle of the night! Now into the restaurant we went. While less than 10 years old, this venue has hosted so many people and functions that helped to create the magic. My favorite being the special Disney Legends lunch we held at Napa Rose, following the Legends Ceremony at the Opera House, in celebration of Disneyland's 50th anniversary. (I have many fond memories of the 25th anniversary and being at Disneyland for more than 25 hours for the special party in 1980!). But back to dinner. Bob and I toasted my birthday with a glass of Chappallet Meritage. Chappallet is also an important part of my journey as the founder of Chappallet is Frank Well's brother in law. Frank was a major force in my life for almost 10 years. From him drilling me on details of the Company picnic while he was soaking wet, fresh out of the duck tank, to pushing me to raise more money for the Rebuild LA Campaign after the Civil Unrest in Los Angeles. Frank instilled in you that drive to do the very best. He was also one of the most compassionate people I have ever met. He gave me my first dedicated headcount for Disney VoluntEARS despite a hiring freeze because he felt so strongly in growing the program. Unfortunately Frank was taken from us way too soon. I was able to help the Company celebrate his life by assisting with the planning of his memorial service as well as producing the dedication of the Frank G. Wells Building on the Studio lot. As we left Napa Rose, we strolled through Downtown Disney recapping our wonderful dinner and memorable day at the Happiest Place on Earth.
The next day, my official last day, was in Burbank. I had coffee with my great team from the Burbank office of Disney Worldwide Outreach. An amazing group of people I was privileged to work with for nine years. Their dedication to better the communities where Disney operates, create and manage programs globally that help children in need, and encourage Cast Members to make a difference through Disney VoluntEARS is awe inspiring.
Then off to have lunch with my colleagues and friends from what use to be holistically called as The Disney University. I spent 16 years with this group who worked to ensure that the Disney legacy lives on and that the Disney work experience was more than just a job. They put together for me a photo album that not only chronicled so many fun events and memories in addition to recording my fluctuating weight and my receding hair line.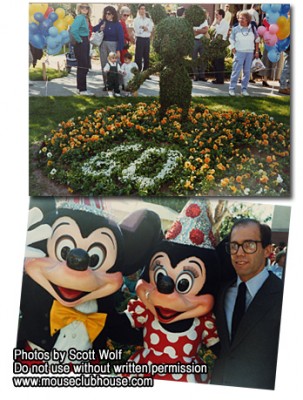 My next stop was the Studio. What a special place. Opened in 1940, this has been the hub of the Company ever since. I first visited the Studio at the age of 16 when I called to request a tour and to my surprise my request was granted. Four years later I started giving tours of the Studio and WED (now Walt Disney Imagineering) for Disneyland Cast Members as an employee enrichment program. For me it was an opportunity to leave the Park, check out a company car, and play in a different part of Disney. Speaking of Imagineering, I gave tours throughout much of the design and construction of EPCOT Center. I feel a real connection to this Park today and I know it was from my weekly visits to WED during this time. For old time sake, I drove in the Buena Vista gate versus my usual entry on Alameda. How fun it was to be greeted by Hector who ran the main gate for oh so many years and has now been gone for probably just as many. Entering Mickey Avenue, I see the Mickey Topiary. What a fun project I had in 1988 to work with the Horticulture Department at Walt Disney World to create a "Ta Da Mickey" that we could have on the Studio Lot. We actually ended up growing two so we would have one that the Studio gardeners could regularly manicure and one for display on Mickey Avenue in front of the Commissary. We dedicated the topiary at a ceremony hosted by Jeffrey Katzenberg on November 18, Mickey and Minnie's 60th birthday.
I then walked through the soundstages including Stage 2, where Cherry Tree Lane was constructed for Mary Poppins and then through the rest of the back lot. So different than the days when I started in Burbank and when the back lot sets of Town Square, Residential Street, Passamaquoddy and Western Street still existed. How fun it was at lunch to walk through the facades and think of all the various films that had been shot there. Today the sets are gone, but the water tower, all 135 feet of it, still looks down over the historic lot.
The Walt Disney Archives has always been a special place for me and I have been fortunate to work on many projects with its great staff and go poking through the files and boxes of Disney history. It is here you will find, hanging with the other official Mickey Portraits, his 60th. John Hench had painted Mickey's 25th and 50th, and I asked John if he would paint a portrait for the 60th that we would then produce into a Cast Exclusive lithograph. He agreed and I remember going to his office to "approve" the rough sketch. Now what was a young "suit" doing approving anything that the great John Hench did? He finished the painting and we had it printed. One unique part of the painting is that he is standing in front of portraits that represent different eras of Mickey's career. The Steamboat Willie portrait obviously was in black and white. Well somewhere along the printing process, someone decided that there was a problem with the print and they colored in Steamboat Willie's face. Well we caught it and on my copy of the litho John wrote a personal note saying thanks for your work on the restoration of Mickey!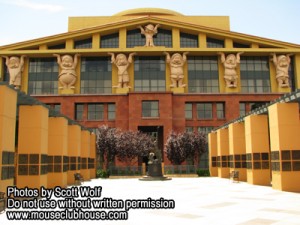 Walking out of the Frank G. Wells Building I looked up to the left at what was Walt's office and then look towards the Team Disney Building and the Seven Dwarfs. I walked into Disney Legends Plaza. This location and what it represents means more to me than any place on the lot. See, I was fortunate to be part of Disney Legends from the very beginning in 1987 when we honored Fred MacMurray in front of the Studio Theatre. Fred starred in one of my favorite Disney films, "The Happiest Millionaire." For the next 21 years, I was responsible for the Disney Legends program. We honored more than 200 individuals during this time for their contribution to the Disney Legacy. They are all special on their own and I am thankful that many have played an important part in my life. Richard Sherman, Ink and Paint's Dodie Roberts; Van France, the founder of The Disney University; Jack Lindquist, Disneyland's first president and Mary Ann Mang who led community relations at Disneyland. I could go on and on. So many amazing events have taken place in the Plaza, including the retirement party for one of my good friends and mentors, T.J. Baptie (Executive Director of The Walt Disney Company Foundation) hosted by another friend and mentor, Dick Cook. Most of the Legends ceremonies were held in the Plaza and hosted by Michael Eisner and Roy E. Disney. It was Michael's vision to take what was to be a promotion for the new "Shaggy Dog" movie on the Disney Sunday Movie into something lasting that would truly honor our heritage. And it was with Roy that I was privileged to work with to take the program to the next level.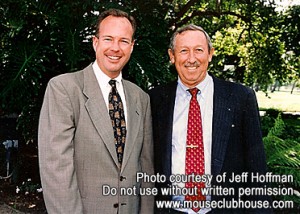 I need to tell you about Roy. What a special man, what a special friend and the mentor of mentors. I had the unique opportunity to spend quality time with him over the years and learn first-hand the story of the Company through the eyes of a Disney. We would meet regularly, talk about who should be brought forward to the Legends Committee for future consideration and why, and along the way were so many stories from the great storyteller. Not just stories of his father and uncle, but stories of his youth, stories of his sailing, stories full of color that you don't often see in the Disney history books. He loved life, loved interesting people and always seemed as if he was my favorite uncle, not the billionaire with a famous last name who masterminded two major shake-ups in the Company. My last conversation with him was when I called him on his mobile to tell him that I would be leaving the Company after the New Year. He was very sick and I had that feeling that this was the last time we would speak. Although, despite his condition, he was as supportive as ever and wished me the best for my next endeavor. He had that special spark letting me know that whatever I did things would be just fine. We lost Roy a few short weeks after. The last time he was in the Plaza was for the Celebration of Wayne Allwine's life. Another great who passed last year. Watching Roy hug Wayne's love Russi Taylor after the service, was especially touching. Losing Wayne, the voice of Mickey, and Roy, the heart and soul of the Company, signaled that the time was right to move on to my next journey. A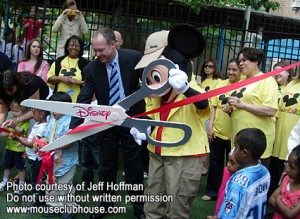 journey built upon so many memories, touched by so many extraordinary people. A foundation upon which to build the next chapter in my life. Hopefully I can spread a little of the pixie dust given to me over the last three decades to help make our communities a little better. So this is not a goodbye, but to quote my old pal Mickey, "See you real soon!"