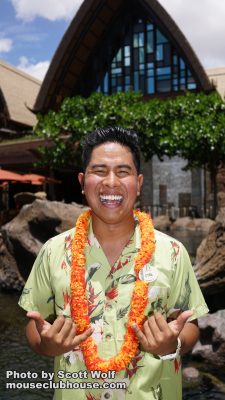 Staying at Aulani, a Disney Resort and Spa is almost like a cruise. It's not just a place to stay, but there is a daily list of events that you can participate in. Be sure to check the "Daily 'Iwa" to find out about all the unique daily happenings!
Today we participated in the nature walk, where we learned about so much of the tropical landscaping here at the resort. Our guide, Cy, was fascinating, with an obvious passion for the topic. Not only did he point out the various species of nature, but he explained the various uses for the abundance of plants and trees, and even how some of them specifically fall into traditional Hawaiian lore.
I was surprised when the tour ended because it felt like it was only ten minutes but it was really 45 minutes long!
Disney has created a true Hawaiian paradise!