Please join our Mouse Clubhouse Facebook group and add any friends you know that like Disney! https://www.facebook.com/groups/mouseclubhouse/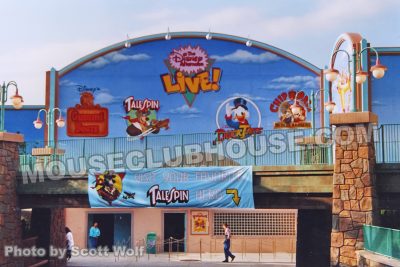 What is now the entrance to Mickey's Toontown in Disneyland, as it appeared in 1991, the entrance to the Meet Baloo attraction
When I became an assistant producer on Disney's TaleSpin animated television series, I never thought it would end up being a big part of an exciting year at Disneyland in 1991! TaleSpin was part of the very first two-hour Disney animated block on television entitled "The Disney Afternoon" in 1990.
In 1991, the Disney Afternoon Live promotion at Disneyland includes special shows and parades and attractions. I always loved Disneyland, so to have an abundance of TV Animation represented was particularly exciting for me, especially having worked on TaleSpin since the start.
I hope you enjoy some of my happy memories, and feel free to click on any photo to view it larger.