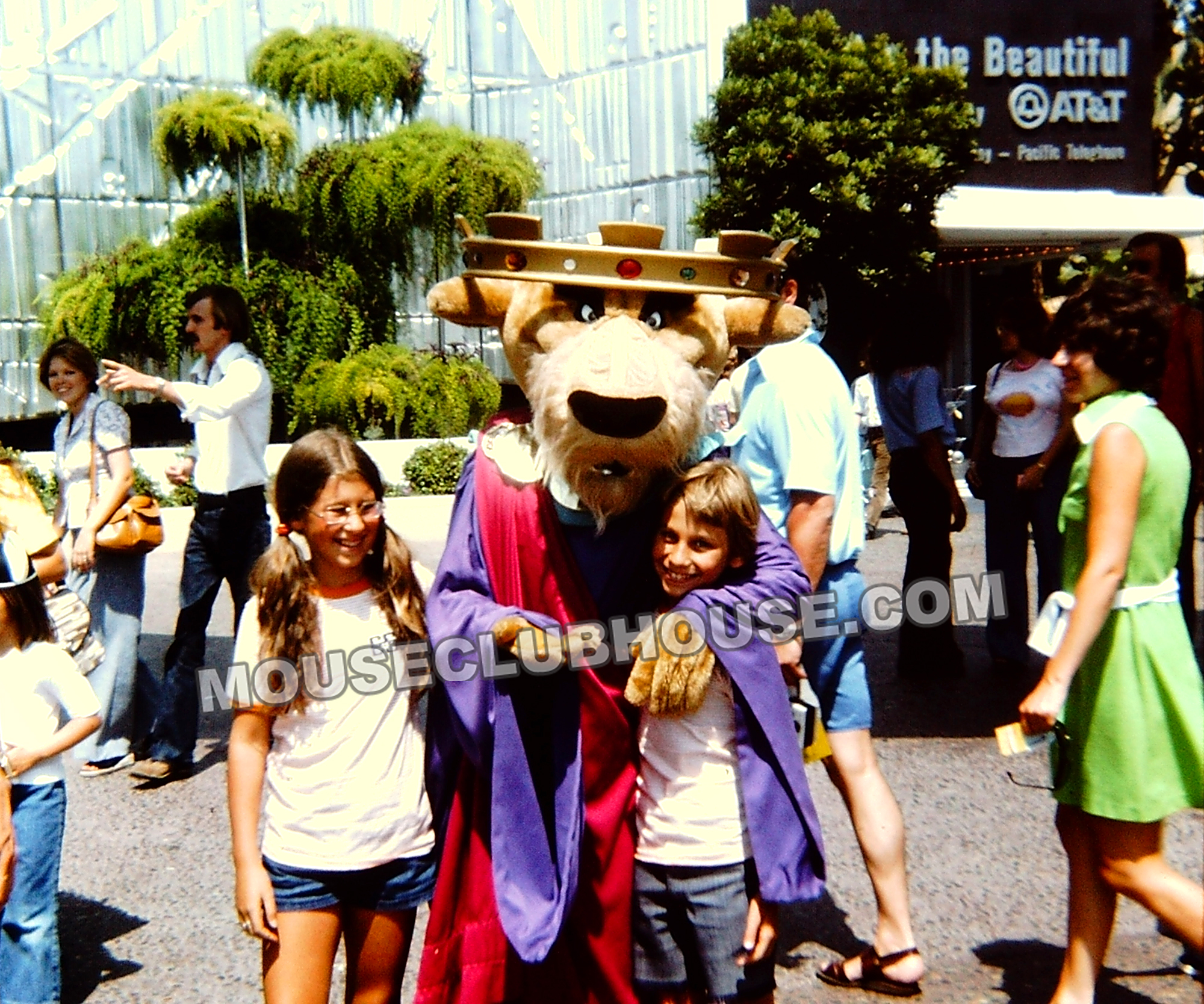 I just discovered this photo of me in Disneyland from 1975. I haven't seen it in more than 40 years!  That's Prince John from "Robin Hood" that I'm giving a big hug to – he looks remarkably the same today! Also in that batch of photos I discovered are images from the groundbreaking Disneyland parade America on Parade, as the park was already celebrating America's bicentennial.
My sister and I are at the entrance to Tomorrowland. Behind us, in what is now the entrance to Buzz Lightyear's Astro Blasters, is the CircleVision theater, presenting the 1967 America the Beautiful movie "in the round," which just happened to lend itself perfectly to the bicentennial celebration.
As you can see, the movie was sponsored by AT&T at that time. Within the movie that was a tour of the United States, one segment visited  Hawaii, and was shot from the AT&T ship, Long Lines, which, as it was explained in the movie, was a ship to help expand and improve the worldwide telephone network by laying underseas cable across the Pacific, the Atlantic, and in the Caribbean. At the conclusion of the film, the AT&T commercial jingle, "Reach out and touch someone" would play as the audience exited.
I sure loved that film! For those that are not familiar with CircleVision, it was a 360 degree movie that completely encircled the audience as if you were really standing in whatever location was being shown. What amazing technology America the Beautiful was! This was before video, and this meant having to run nine film projectors simultaneously, and have them on a loop to be able to run continuous shows throughout the day. Disneyland's original CircleVision movies required 11 cameras, but the updated America the Beautiful used wider film formats which meant less projectors were necessary. Did you know you can still see some more recent CircleVision movies today at Epcot?
Since 2009, the opening music from America the Beautiful can still be heard as part of the Great Moments with Mr. Lincoln attraction at Disneland, and for me, it brings back such happy memories of the past, just as finding this old photograph did!