For you Disney Afternoon fans, I thought I'd share some of my photos from my days in Disney Television Animation. And before I forget, be sure to join me on my Facebook Group https://www.facebook.com/groups/mouseclubhouse/
This was me in 1988, just a couple weeks after joining Disney TV Animation as a production assistant.
This is what my office looked like when I was the assistant producer of TaleSpin. The pictures on the wall are a gorgeous icy background that artist Paro Hozumi gave me. I still have it today and love it! It was done for DuckTales. The middle is a picture of me with Disney CEO Michael Eisner and Disney President Frank Wells, and to the right of that is a cel of Jessica Rabbit. Not a production cel, but if memory serves me right, one of our color key artists, Britt Greko, made that for me. I also see on my shelf is a plastic mug for Mickey Mouse's 60th birthday. Even our studio name tags had that logo on them that year. By the way, you can click on all these images to view them larger.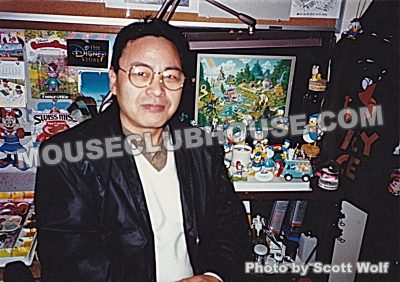 This is Paro Hozumi, background artist extraordinaire, who gave me that DuckTales background he did. He actually painted "background keys" as opposed to the actual production backgrounds. A layout artist would design the background, usually with pencil in black and white and then a background artist such as Paro would paint it in full color. Part of my job was to gather all the necessary materials and send them to the overseas animators so very little was left to their imagination in what needed to be done. Background keys were just one element. Characters, props, scripts, audio, timing sheets, storyboards and many other elements were also included.
Ed Ghertner was the first producer I worked with on TaleSpin. Before that, Ed was an amazing layout artist for both television and feature animation. In fact, he designed the ballroom for "Beauty and the Beast." At the time, I remember the news saying how the ballroom was the first computerized background, but they neglected to say it still needed to be designed by someone – and that was Ed. A great guy!
Tim was one of my first friends at TV Animation and he was the second TaleSpin producer I worked for, taking over for Ed when he returned to Disney Feature Animation. Tim was our director on DuckTales. He really knew the history of animation and would bring to places like the Blarney Stone in Burbank, where some of the "oldtimers" hung out. Tim has an amazing and inspiring story more recently after being diagnosed with Parkinson's disease. After being a right handed artist his whole life he suddenly lost his drawing ability. Check out his book of artwork after he started using his left hand for his talent.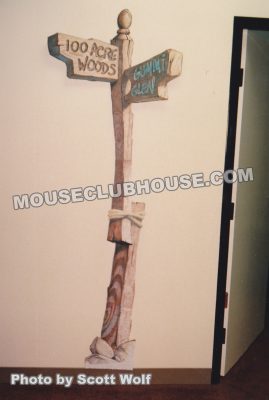 The artists created this sign for our offices. To the left was The New Adventures of Winnie the Pooh crew and to the right was the crew of Gummi Bears.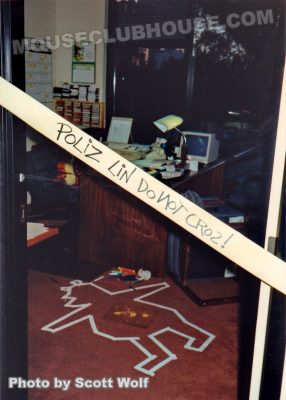 One day Karl Geurs, the producer of The New Adventures of Winnie the Pooh  came back from lunch to find this tragic scene. His office had been ransacked and poor Pooh had been murdered, Inside the chalk outline, rather than blood, were drops of Pooh-color paint on a cel. Even the police line tape was perfectly themed. What creativity those people had!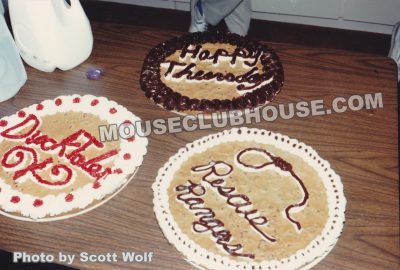 There were many divisions in Disney, and the TV Animation department fell under the Disney Studios division, which was headed by Jeffrey Katzenberg.  Each Thursday, Jeffrey would send over a Thursday treat. One time it was a popcorn machine, one time it was an ice cream sundae bar service. Pictured above was when he sent over some giant frosted cookies.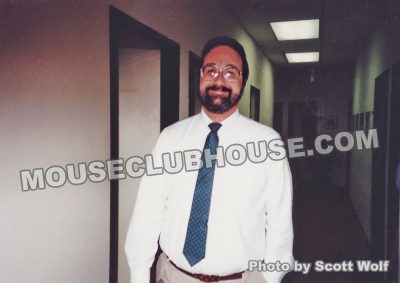 Tom Ruzicka was the director of Disney TV Animation, and he so kind to me! I was just a young guy learning the business, and I still appreciate how nice he always was to me.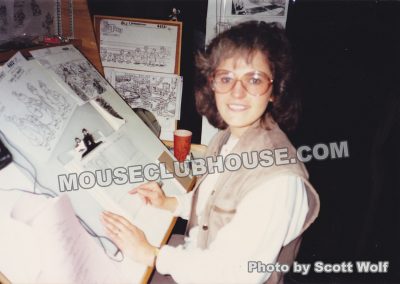 Unfortunately, this photo of storyboard artist Viki Anderson is a little blurry. This photo reminds me of just how many really nice people I got to work with. Here she is working on a DuckTales storyboard. You can see she had some model sheets around, on the wall is a character size comparison and the script is to her left. You can see a little of her tape recorder. Although at this stage, the dialogue was not yet timed out and there was no music or sound effects, the artists could hear the voices to create the storyboard.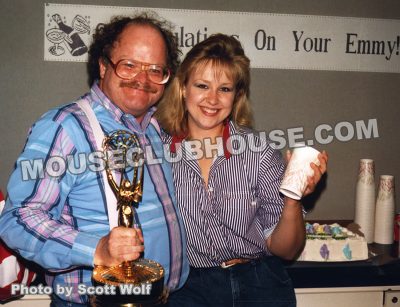 This is when The New Adventures of Winnie the Pooh won the Emmy. Regardless which show we were working on, we were all excited! This is writer Bruce Talkington with Krista Bunn. Krista was the supervisor of the TV Animation artwork archives so the artists could avoid unnecessary work. I would give Krista a list of everything we needed designed for the current episode of TaleSpin and she would give me existing drawings, whether it was an incidental character we could reuse or a prop like a pencil. Although a pencil designed for Winnie the Pooh, for example, would be a different style than TaleSpin, but one from DuckTales might work. And if you're a fan of Chip 'n' Dale's Rescue Rangers, Bruce may look familiar. Professor Nimnul was modeled after him.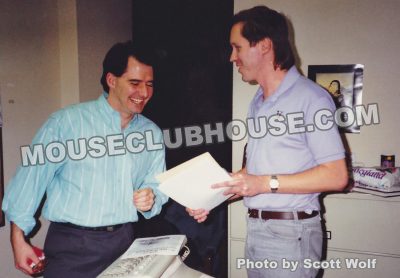 Bruce Cranston was the head of the writers, and is pictured here with writer Bryce Malek. Bruce was just so kind to this young guy. There were really just great people at TV Animation.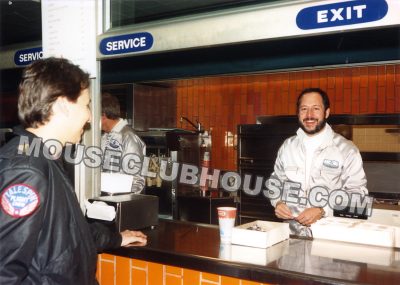 Gary Kriesel was the president of Disney Television Animation, so why is he serving up hot dogs at the Disneyland Space Place in this photo? Each Christmas, those of us at the studio got to go to a special employee Christmas party at Disneyland, which was closed to the public. Employees of the studio, Imagineering and other divisions were not only guests, but could work there for a couple hours if they wanted. It was fun seeing people like CEO Michael Eisner working at Coke Corner, or Marty Sklar, the head of Walt Disney Imagineering driving a Main Street vehicle. I LOVED working on attractions like Haunted Mansion, Pirates of the Caribbean and Splash Mountain. Here I am, complete with my TaleSpin Flight Crew patch that they gave us, ordering food from Gary.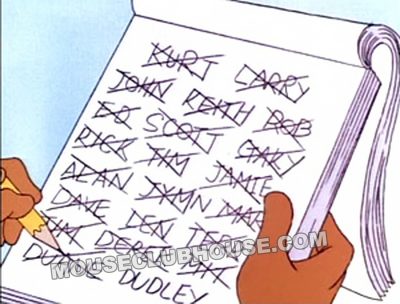 In one scene from the "My Fair Baloo" episode of TaleSpin, Rebecca made a list of all the guys that turned her down for a date to the Businessman's Dinner. All the first names were really TV Animation staff. There's me, Ed Ghertner, Tim Walker, my assistant Rick West, the show's creator Jymn Magon and some other great guys. Of course I would never have REALLY turned down Rebecca for a date. 🙂
When I started working on DuckTales and TaleSpin there was no such thing as the Disney Afternoon, but in 1990 to kick off this new block of programming, the Disney Studios had a big celebration for all employees.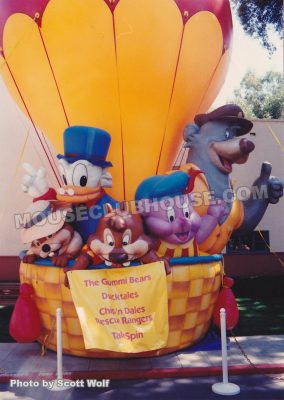 After finishing up production on "TaleSpin", what a treat it was to walk into the Disney Studios and be welcomed by this giant inflatable of characters from this very first version of the Disney Afternoon!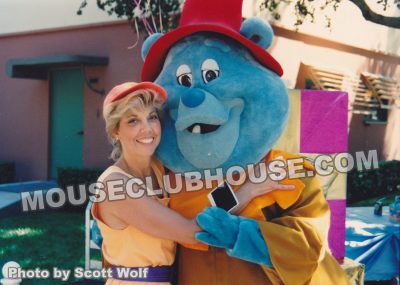 There were so many wonderful people I was fond of while workin in Disney TV Animation, and so many unsung heroes, such as color key artist Britt Greko who was responsible for giving color to many of the characters, costumes and props you saw in shows like DuckTales and TaleSpin.
This live stage show performance of "It's a Disney Afternoon" at the studio was developed for a traveling promotional tour across 30 cities across the country. Hosted by Charlie the "roadie," the 20 minute show told the story of the characters creating a new music video entitled "Get Closer."
Above is a newspaper ad for when the Disney Afternoon tour visited St. Louis, MO.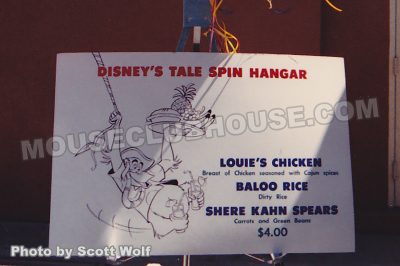 Even the commissary got in on the Disney Afternoon fun offering themed meals, such as Louie's Chicken, Baloo Rice and Shere Kahn Spears.
There I am with Chip 'n Dale, and a big smile on my face during a wonderful time of my life.