Since today is the 50th anniversary of the Pirates of the Caribbean attraction in Disneyland, I thought I'd post some photos I took back at the 25th anniversary celebration in 1992.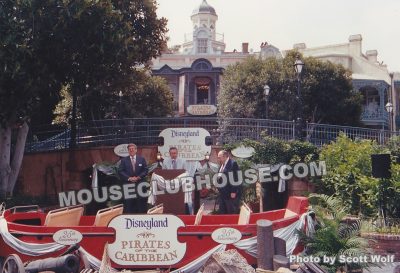 Disneyland executive vice president Norm Doerges was on hand along with two of the attraction's contributors X Atencio and Marc Davis, both of whom I interviewed for Mouse Clubhouse! X wrote the script and the lyrics to the Yo Ho song and Marc designed the scenes you see as you ride by.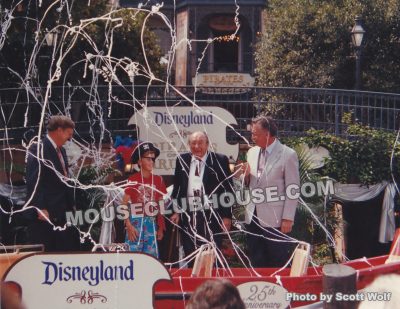 Pirates of the Caribbean contributors X Atencio and Marc Davis christen one of the boatsA boy was pulled up from the audience to help out as X and Marc christened one of the Pirates boats, with celebratory streamers, too.
A display of Marc Davis' concept art for Pirates of the Caribbean was presented in the Disney GalleryAfter that, we were all invited to the Disney Gallery, above the attraction, for a display of some of Marc's concept artwork for the attraction, such as the Jolly Roger pictured below. By the way, when you ride through, that's X's voice as the Jolly Roger, who asks, "Ye come seeking adventure in salty old pirates, eh?" and warns you, "Dead men tell no tales."